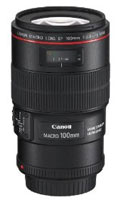 Canon EF 100mm f/2.8 L Macro IS USM Specifications
Frame Coverage
35mm
Lens Construction (groups)
12
Lens Construction (elements)
15
No. of Diaphragm Blades
8
Minimum Aperture
32
Closest Focusing Distance
0.3m (11.8")
Maximum Magnifcation
1x
Filter Diameter
67mm
Maximum Diameter x Length
77.7mm x 123mm (3.1" x 4.8")
Weight
625g (22oz)
KenRockwell.com
The Canon 100mm f/2.8 IS L Macro works as expected, and IS works much better than expected. It's lighter than you'd expect, which enhances the plasticy feeling. It's a great lens; my only concerns are that other similarly great Canon lenses sell for half as much.
DPReview.com
The EF 100mm F2.8 L IS USM Macro is an easy recommendation if you're looking for exceptional image quality regardless of price. However potential buyers do need to appreciate that the increased cost over its older stablemate appears to pay mainly for the Hybrid IS system, which despite its clever technology isn't hugely useful for actual close-distance macro work.
SLRGear.com
Canon's really raised the bar with this lens: exceptionally sharp, even wide open at f/2.8, with strong results for resistance to chromatic aberration and distortion. Corner shading can be a tad high at f/2.8 when used on a full-frame body, but for macro work, I imagine most people will be using this lens in the stopped-down range to get as much depth-of-field as possible.
PhotoZone.de
The Canon EF 100mm f/2.8 USM L IS macro is a very fine lens and a welcome new option in the market. The resolution is generally very high although the border quality could be a little better at large aperture settings. Typical for macro lenses distortions are a non-issue. Vignetting is only a real problem at f/2.8.
The-Digital-Picture.com
I called the Canon EF 100mm f/2.8 USM Macro Lens Canon's "Most fun per dollar lens". While that lens is less expensive, I'm thinking the Canon EF 100mm f/2.8 L IS USM Macro Lens may be the new holder of this title. The improvements in this lens, especially the Hybrid IS, go a long way toward increasing the fun-ness.