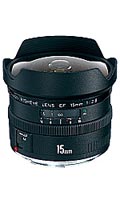 Canon EF 15mm f/2.8 Fisheye Specifications
Frame Coverage
35mm
Lens Construction (groups)
7
Lens Construction (elements)
8
No. of Diaphragm Blades
5
Minimum Aperture
22
Closest Focusing Distance
0.2m (7.9")
Maximum Magnifcation
0.14x
Filter Diameter
N/A (rear gelatin filter)
Maximum Diameter x Length
73mm x 62.2mm (2.9" x 2.5")
Weight
330g (11.6oz)
KenRockwell.com
The Canon 15mm f/2.8 fisheye is the sharpest fisheye I've used. It's always sharp, getting best by f/5.6 in the farthest corners. Lateral color is more of a detriment to sharpness than sharpness itself here. If you're shooting distant flat landscapes, there is a tiny bit of curvature of field.
Photo.net
This is not a lens for every day, but in some ways I think I like it better than my 14mm rectilinear wide angle which was vastly more expensive. Oh yes, as you can see from the example photos, this is a "full-frame fisheye" which means that it covers the entire 35mm frame to the corners.
The-Digital-Picture.com
I am impressed with the image quality from a lens this wide. If you don't mind the severe distortion or are willing to post-process the distortion out, the Canon EF 15mm f/2.8 Fisheye Lens will make a very nice wide angle lens for you.