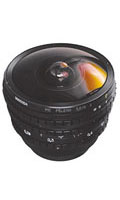 Peleng 8mm f/3.5 Fisheye Specifications
Frame Coverage
35mm (circular fisheye)
Lens Construction (groups)
7
Lens Construction (elements)
11
No. of Diaphragm Blades
9
Minimum Aperture
16
Closest Focusing Distance
0.22m (11.8")
Maximum Magnifcation
Unknown
Filter Diameter
26.5mm (rear screw filter)
Maximum Diameter x Length
73.5mm x 65mm (2.9" x 2.6")
Weight
370g (13oz)
Ready to buy?

ZKnives.com
As you can see and you would expect fisheye produces a circle, with dark corners. Pictures were scaled down, no major processing. Taken outdoors, cloudy day, ISO 400, F8. Fisheye distortion itself is interesting, and definitely can be used in pictures as is, just some cropping to cut of dark corners.