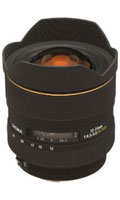 Sigma 12-24mm f/4.5-5.6 EX HSM Specifications
Frame Coverage
35mm
Lens Construction (groups)
12
Lens Construction (elements)
16
No. of Diaphragm Blades
6
Minimum Aperture
22
Closest Focusing Distance
0.28m (11")
Maximum Magnifcation
0.14x
Filter Diameter
N/A (rear gelatin filter)
Maximum Diameter x Length
87mm x 102.5mm (3.4" x 3.9")
Weight
600g (21.6oz)
SLRGear.com
Despite this mixed bag of performance, our overall impression of the 12-24mm is good, and it's hard not to enjoy the true ultra-wide performance on full-frame. For the money you can't beat the convenience, and with a little work in post-processing the resulting images are excellent.
Photodo.com
A huge field of view, coupled with a sensible zoom range that is still useful on cropped sensor cameras as well as the full frame that it is designed for make this lens extremely practical. A great item of award winning kit, especially if you use more than one format of sensor.
Eric Tischer
Looking at the original file shows there is no CA or PF anywhere, even where the black edge of the building meets the white clouds in the corner of the frame. That is a real torture test for for any wide angle lens, and the Sigma performs very well.
Petteri Sulonen
This lens should absolutely shine in architectural and landscape photography: off a tripod and stopped down to f/11, I expect nothing short of superb results from it.