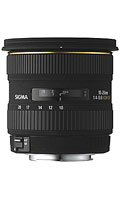 Sigma 10-20mm f/4-5.6 EX DC HSM Specifications
Frame Coverage
APS-C
Lens Construction (groups)
10
Lens Construction (elements)
14
No. of Diaphragm Blades
6
Minimum Aperture
22
Closest Focusing Distance
0.24m (9.4")
Maximum Magnifcation
0.15x
Filter Diameter
77mm
Maximum Diameter x Length
83.5mm x 81mm (3.3" x 3.2")
Weight
465g (16.4oz)
Review Summary
The Sigma 10-20mm gives true wideangle capabilities to APS-C sensor bodies. The lens has very good sharpness with distortion at the wide end being a weakness. Overall it is a good alternative to the
Canon 10-22
if price is a factor.
SLRGear.com
We were pleasantly surprised by how sharp this lens was wide open, across its focal length range. It wasn't perfect, and never got really *crisp*, but on the whole did quite a bit better than we had been expecting. At the 10mm end, the center is very sharp, but the corners get a little soft, but the corner softness decreases substantially as you move toward the "tele" end of its range, or as you stop down even a little from wide open.
Nikonians.org
The Sigma 10-20mm lens has two major strong points: sharpness edge to edge and chromatic aberration. We found that sharpness at 12mm was very good in the center and did not diminish much at all in the image edges, even when shot wide-open. When used wide-open we saw that edge softening began about 240 pixels from the edge of the frame, but this was a very subtle effect.