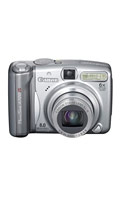 Canon PowerShot A720 IS Specifications
Lens
5.8-34.8mm f/2.8-4.8 (35mm film equivalent: 35-210mm)
Recording Media
SD card
Image Sensor Size
1/2.5"
Max Resolution
3264 x 2448
Effective Pixels
8 million
RAW Output
No
Optical Viewfinder
Yes
Image Stabilization
Yes, Lens
Battery
AA (2) batteries (NiMH recommended)
Dimensions (W x H x D)
97.3 x 67 x 41.9mm (3.83 x 2.64 x 1.65")
Weight (not incl. battery)
200g (7.1oz)
DigitalCameraInfo.com
The Canon A720 IS has fantastic color accuracy, and, as an added bonus, excellent white balance accuracy using either the auto or preset settings. The accurate colors coupled with the solid resolution performance make this camera a great value in terms of image quality. The image quality isn't perfect, however, as photos will be plagued with noise at high ISO settings, as well as limited dynamic range.
DPReview.com
The A720 IS comes from a long line of successful cameras and, while it is hardly the most exciting upgrade we've ever seen, it does nothing to detract from a popular and successful recipe. And this makes it quite hard not to damn the thing with faint praise because it's hard to say anything about the A720 IS beyond the fact that it's a really good little camera.
Bob Atkins
The Powershot A720is is a remarkably capable camera with extensive manual options. There's very little you can't do in the way of manual control as long as you select the correct mode. You have full control over shutter speed, focus, aperture, flash power and operation, metering, AF zones, image sharpness/contrast/saturation, drive mode, image stabilization and just about every other feature the camera offers.
Imaging-Resource.com
The Canon A720 IS stands out for its usable ISO as high as 1,600 (for small prints, or larger with noise reduction software) and excellent image stabilization so useful you'll always want it active. Considering you get that for under $250, it's a bargain, too.