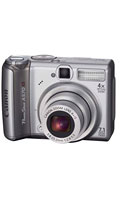 Canon PowerShot A570 IS Specifications
Lens
5.8-23.2mm f/2.6-5.5 (35mm film equivalent: 35-140mm)
Recording Media
SD card
Image Sensor Size
1/2.5"
Max Resolution
3072 x 2304
Effective Pixels
7.1 million
RAW Output
No
Optical Viewfinder
Yes
Image Stabilization
Yes, Lens
Battery
AA (2) batteries (NiMH recommended)
Dimensions (W x H x D)
90 x 64 x 43mm (3.5 x 2.5 x 1.7")
Weight (incl. battery)
215g (7.6oz)
DPReview.com
With the Canon A570 IS you get a nicely designed, responsive camera with more than enough features to keep most users - especially those wanting a little more manual control than is normal at this price point - happy. If you don't mind it not being the fastest 'social' snapshot camera in the world (the flash recycling puts paid to that), this is a perfect camera for anyone wanting real photographic control without paying through the nose.
Ken Rockwell
This is a nice camera, but not much less expensive than the tiny SD700 I prefer and use personally. For most people the slimmer and smaller SD700 or SD850 are better cameras because of their better batteries and flash systems. The A570 eats AA batteries if you use it much, the others include a tiny rechargeable battery that runs forever with a charger.
Imaging-Resource.com
The Canon A570 IS stands out for its usable ISO as high as 1600 (for small prints, at least) and excellent image stabilization so useful you'll always want it active. Considering you get that for just $50 over the price of the quite similar A560, it's a bargain, too.