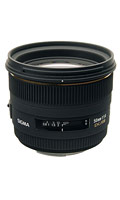 Sigma 50mm f/1.4 EX HSM Specifications
Frame Coverage
35mm
Lens Construction (groups)
6
Lens Construction (elements)
8
No. of Diaphragm Blades
9
Minimum Aperture
16
Closest Focusing Distance
0.45m (17.7")
Maximum Magnifcation
0.14x
Filter Diameter
77mm
Maximum Diameter x Length
85mm x 68mm (3.3" x 2.7")
Weight
505g (17.8oz)
SLRGear.com
In comparison to some of its contemporaries, it offers slightly better wide-open performance; for many people, this will be the deciding factor. If you're not shooting the majority of your 50mm shots at ƒ/1.4, then there are many more options; otherwise, the Sigma 50mm ƒ/1.4 could be an excellent addition to your bag.
The-Digital-Picture.com
The Sigma 50mm f/1.4 EX DG HSM Lens is a bit sharper (less dreamy) than the Canon EF 50mm f/1.4 USM Lens until f/4 where the Canon has much sharper corners. The Canon EF 50mm f/1.8 II Lens has sharper corners from f/2.8, but is not sharper than the Sigma in the center. The Sigma is similar in sharpness to the Canon EF 50mm f/1.2 L USM Lens throughout the aperture range.
DPReview.com
When Sigma first announced the 50mm F1.4 EX DG HSM in March, our story headline (courtesy of our news editor and punmeister-in-chief) was 'A new standard?', and this has turned out to be remarkably prescient. This new lens essentially redefines its class, and for once the results really live up to the marketing hype.
PhotoZone.de
The new Sigma AF 50mm f/1.4 EX DG HSM is a refreshing alternative in the long-ignored standard AF lens market. The lens is fairly big and heavy due to unusually big glass elements but thanks to the design efforts it is already capable of delivering very sharp images straight from f/1.4 and the resolution is truly impressive at medium aperture settings.