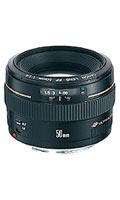 Canon EF 50mm f/1.4 USM Specifications
Frame Coverage
35mm
Lens Construction (groups)
6
Lens Construction (elements)
7
No. of Diaphragm Blades
8
Minimum Aperture
22
Closest Focusing Distance
0.45m (17.7")
Maximum Magnifcation
0.15x
Filter Diameter
58mm
Maximum Diameter x Length
73.8mm x 50.5mm (2.9" x 2")
Weight
290g (10.2oz)
KenRockwell.com
This 50mm f/1.4 USM is Canon's most useful 50mm lens. It sells for about $350 new. If you shoot just about anything that moves in available light, you need one of these. It allows you to shoot with ISOs of only one-quarter, or shutter speeds four times as fast, or shoot in light only one-quarter as bright as with any exotic f/2.8 L zoom.
DPReview.com
The Canon EF 50mm F1.4 USM may be based upon a 37-year old optical design, but its performance in our studio tests clearly shows that it's not giving up yet. Sure the hairs are beginning to grey a little, and Sigma's new young pretender can outmuscle it comprehensively at wider apertures, but this lens really shows its quality once the aperture is closed down a couple of stops.
Peter Kun Frary
The EF 50 1.4 USM is the low light specialist, the EF 50 1.8 is the general purpose optic and the EF 50 2.5 Compact Macro is optimized for close-up work. However, build quality and AF speed are similar between the lenses.
NaturePhotographers.net
If you're searching for a versatile lens that is compact, extremely fast, and offers the highest imaging performance, the 50mm has always been and will continue to be an excellent choice. And the Canon 50/1.4 USM may very well be the best of the breed.
Photo.net
Canon's 50/1.4 is a bit heavier than the 50/1.8 but it gives you simultaneous AF/MF because of its USM focusing motor. It is one f-stop slower than the 50/1.0 but much lighter weight and less than one-sixth the price.