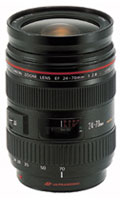 Canon EF 24-70mm f/2.8 L USM Specifications
Frame Coverage
35mm
Lens Construction (groups)
13
Lens Construction (elements)
16
No. of Diaphragm Blades
8
Minimum Aperture
22
Closest Focusing Distance
0.38m (15")
Maximum Magnifcation
0.29x
Filter Diameter
77mm
Maximum Diameter x Length
83.2mm x 123.5mm (3.3" x 4.9")
Weight
950g (33.5oz)
KenRockewell.com
The Canon EF 24-70mm f/2.8 L is one of Canon's best lenses ever. A Canon 24-70/2.8 L has been in just about every pro's bag ever since it was introduced in 2002. This is because it's great optically, ergonomically and mechanically. The only reason not to have one of these lenses is because it's big, heavy and expensive.
PhotoZone.de
The Canon EF 24-70mm f/2.8 USM L is an impressive zoom lens upon first contact but it stayed somewhat short of the high expectations with respect to its optical characteristics. It can certainly produce sharp images if you know how to handle it but the pronounced field curvature at the wide end is a faux-pas which can often spoil the game.
Fred Miranda
The new 24-70L provides great image quality suitable to professional standards. However, if you are thinking of replacing your 28-70L or dumping your prime collection, think again. You may already have all you need.
William Castleman
The two expensive L-zoom lenses predictably outperformed the consumer quality EF 28-135mm lens on many tests. However, the differences in image quality that end up being visible in a print are surprisingly small.
Luminous-Landscape.com
The 24-105 has definitely taken its place in my bag, replacing the 24-70 as my general purpose medium focal length zoom.
Luminous-Landscape.com
Given that the old 28-70mm has long been considered a stellar performer — one of the most highly regarded mid-range fast zooms — to have it trumped so decisively by the new 24-70mm is quite a surprise.