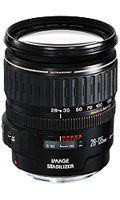 Canon EF 28-135mm f/3.5-5.6 IS USM Specifications
Frame Coverage
35mm
Lens Construction (groups)
12
Lens Construction (elements)
16
No. of Diaphragm Blades
6
Minimum Aperture
22-36
Closest Focusing Distance
0.5m (19.7")
Maximum Magnifcation
0.19x
Filter Diameter
72mm
Maximum Diameter x Length
78mm x 97mm (3.1" x 3.8")
Weight
549g (19.4oz)
KenRockwell.com
The Canon 28-135mm f/3.5-5.6 IS is a wonderfully versatile lens. It's my favorite Canon all-purpose zoom for full-frame digital and 35mm film. The 28-135 EF IS USM is easy to handle, works great, goes long and wide, has instant manual-focus override and focuses super-close. What more could you want? Image Stabilization? It has that, too!
Ali Ozer
Although the Canon has an edge over the Sigma with the slightly better photo quality and its wonderful image stabilization, Sigma is a decent enough lens with a hard-to-resist size and a reasonable price.
William Castleman
It is unrealistic to expect great optical performance out of a variable aperture consumer zoom lens designed as a compromise. Less than excellent resolution at wide open apertures, substantial linear distortion, and contrast drop off at long focal lengths are to be expected. Nevertheless, there are times when you can only take one lens, and each of the consumer lenses tested has its good points.
William Castleman
The two expensive L-zoom lenses predictably outperformed the consumer quality EF 28-135mm lens on many tests. However, the differences in image quality that end up being visible in a print are surprisingly small.
Luminous-Landscape.com
For the past year I have been using the 28-135 IS USM because it is relatively inexpensive, portable, has good zoom range and is an eminently decent quality lens. Along came the 24-105 offering portability (only a wee bit heavier than the 28-135), good zoom range and top quality at three times the price.