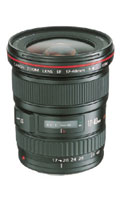 Canon EF 17-40mm f/4 L USM Specifications
Frame Coverage
35mm
Lens Construction (groups)
9
Lens Construction (elements)
12
No. of Diaphragm Blades
7
Minimum Aperture
22
Closest Focusing Distance
0.28m (11")
Maximum Magnifcation
0.24x
Filter Diameter
77mm
Maximum Diameter x Length
83.5mm x 96.8mm (3.3" x 3.8")
Weight
475g (16.8oz)
PhotoZone.de
It's not exactly easy to design a flawless full format lens and the Canon EF 17-40mm f/4 USM L shows its part of the struggles here. The lens is not overly fast but it has a comparatively broad range for a lens in this class and it seems as if Canon has overstretched things a little with respect to the 17mm setting.
CameraLabs.com
The Canon EF 17-40mm f/4.0L comes Highly Recommended both for full-frame body owners, along with those who have APS-C bodies and are thinking of upgrading to full-frame in the future - see our 400D lens upgrade group test. It may not be as flexible as the EF 24-105mm, but it's much more exciting and cheaper too.
Ken Rockwell
I prefer this 17-40mm to the twice-as-expensive and heavier 16-35L. I'll forgo the wider view for an overall larger zoom range, more consistent optical performance and less weight.
Peter Kun Frary
For discriminating hikers, travelers and amateurs this zoom deliverers quality without breaking their shoulder (and bank) and can take the knocks they dish out. Highly recommended.
Photodo.com
This is an exceptionally good lens and deserves it reputation, finding its place in most camera bags of professionals using Canon gear.
William Castleman
The EF 17-40 generally gives slightly sharper edge performance with less chromatic aberration than the EF 16-35. However, differences are small.
William Castleman
The EF 17-40mm f/4L lens is a very sharp, high contrast zoom lens with performance characteristics that often match and sometimes exceed those of quality prime lenses at wide angle.
Luminous-Landscape.com
My recommendation is that if you already own the 16-35mm f/2.8L there's no need to change. It's "six of one half dozen of the other" when comparing the two in terms of overall image quality, and the extra stop in speed may well be important to you.
OrdinaryLight.com
If you're looking for a high quality wide angle zoom for outdoor shooting, it's hard to beat the 17-40mm f/4 L. If you need f/2.8 in a wide zoom then you want the Canon 16-35mm f/2.8 L, which is about twice the price of the 17-40mm f/4 L.