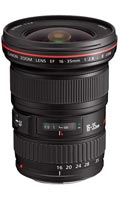 Canon EF 16-35mm f/2.8 L II USM Specifications
Frame Coverage
35mm
Lens Construction (groups)
12
Lens Construction (elements)
16
No. of Diaphragm Blades
7
Minimum Aperture
22
Closest Focusing Distance
0.28m (11")
Maximum Magnifcation
0.22x
Filter Diameter
82mm
Maximum Diameter x Length
88.5mm x 111.6mm (3.5" x 4.4")
Weight
600g (21.2oz)
PhotoZone.de
The Canon EF 16-35mm f/2.8 USM L II may not be the greatest lens around in absolute terms but it delivers regarding its primary purpose - a very good performance at its ultra-wide to wide settings (16-26mm) from about f/4 onwards. This isn't all that simple as we've seen during the test of the EF 17-40mm f/4 USM L.
Ken Rockwell
If you have $1,500, want the best ultra-wide zoom on the planet for your Canon full-frame (5D, 1Ds Mk III, etc.) or 1.3x (1D Mk III) camera and don't mind a little extra size and weight, just get one of these now. It is significantly sharper in the corners over the previous 16-35mm f/2.8, and focuses much more consistently.
16-9.net
It's immediately evident that some major changes have been made under the skin to turn the Mark I, a relatively mediocre performer among state-of-the-art wide angles, into the Mark II – a lens that bears comparison with the finest available.
The-Digital-Picture.com
I'm very pleased with the image quality I'm getting from this lens. Wide open results are very sharp in the center and improve only slightly stopped down. Wide angle full frame corners, though not perfect, are very good for a lens this wide - the best full-frame Canon wide angle lens yet.