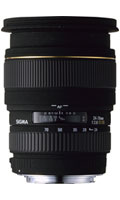 Sigma 24-70mm f/2.8 EX Specifications
Frame Coverage
35mm
Lens Construction (groups)
13
Lens Construction (elements)
14
No. of Diaphragm Blades
9
Minimum Aperture
32
Closest Focusing Distance
0.4m (15.7")
Maximum Magnifcation
0.26x
Filter Diameter
82mm
Maximum Diameter x Length
88.7mm x 115.5mm (3.5" x 4.5")
Weight
715g (25.2oz)
Photodo.com
This is a large lens that is well built and feels like it will go the distance. The zoom ring is surprisingly small for the size of the mechanism it has to move, but although a little heavy in operation, worked well. Autofocus is noisy but accurate. The 24mm end is just wide enough to start being call wide angle on a cropped sensor, but if you are still mixing digital with film, then this lens is a very good buy.
The-Digital-Picture.com
If the prices were the same, I don't think anyone would choose the Sigma 24-70mm f/2.8 EX DG Lens over the Canon EF 24-70mm f/2.8 L USM Lens. But, the Sigma is less than half the price of the Canon. And for that reason, many people are willing to overlook the physical and optical quality differences between these two lenses.