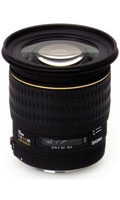 Sigma 20mm f/1.8 EX Specifications
Frame Coverage
35mm
Lens Construction (groups)
11
Lens Construction (elements)
13
No. of Diaphragm Blades
9
Minimum Aperture
22
Closest Focusing Distance
0.20m (7.9")
Maximum Magnifcation
0.25x
Filter Diameter
82mm
Maximum Diameter x Length
88.6mm x 89.5mm (3.5" x 3.5")
Weight
520g (18.3oz)
Eric Tischer
To my eye the Sigma 20mm is identical to the Sigma 12-24mm from f/5.6 and down. Unless you need the extra speed or macro ablity, there's isn't much incentive to upgrade.
William Castleman
The EF 17-40mm f/4L lens is a very sharp, high contrast zoom lens with performance characteristics that often match and sometimes exceed those of quality prime lenses at wide angle.
The-Digital-Picture.com
Meet the Sigma 20mm f/1.8 EX DG Lens - as of this writing, Canon does not offer a lens this wide with an aperture this large. The Sigma 20mm is over 1 stop faster than the fastest Canon 20mm prime or zoom lenses (f/2.8).
Petteri Sulonen
It does something no other Canon-mount lens does -- a solid 20 mm down to f/2.8, and then over a stop more. And it's not even expensive.