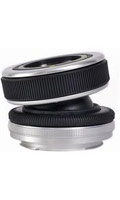 Lensbaby Composer Specifications
Frame Coverage
35mm
Approximate Focal Length
50mm
Lens Construction
Multi-coated optical glass doublet
Aperture Type
interchangeable aperture disks
Available Apertures
2, 2.8, 4, 5.6, 8, 11, 16, 22
Closest Focusing Distance
46cm (1.5")
Maximum Diameter x Length
63mm x 63mm (2.5" x 2.5")
Weight
156g (5.5oz)
BobAtkins.com
It's probably more difficult to use a Lensbaby creatively and produce interesting images than it is to produce interesting images with a "normal" lens. The Lensbaby is an easy lens to use, but that doesn't mean it's an easy lens to use effectively. Some people will "get it" and some won't. If you're one of the ones who do, then a Lensbaby can be a lot of fun!
Imaging-Resource.com
We've always really enjoyed shooting with a Lensbaby, but the Composer takes the fun to another level. The hip ball joint is the easiest Lensbaby we've every used, solving the nagging problems of its predecessors. And the interchangeable optics promise to open up a whole new dimension in selective focus, allowing you to decide just what level of blur you want.
TheOnlinePhotographer.com
Weighing in at under 6 oz., the Composer is a small, well-built addition to the Lensbaby family. The manual focusing ring works smoothly and has nice ergonomics. I'm getting more shots focused right the first time with the Composer as compared to the multiple tries that were sometimes necessary with the bellows focusing on older models.
The-Digital-Picture.com
The Lensbaby Composer is basically a ball and socket with a lens set installed in the front (ball) portion of the assembly. To move the sharp-focused area around in the frame, the lens elements are pivoted on the ball. Friction on the ball is controlled by the rear black-ribbed ring that fine-click-stops into place.