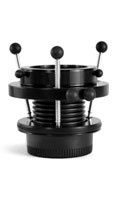 Lensbaby 3G / Control Freak Specifications
Frame Coverage
35mm
Approximate Focal Length
50mm
Lens Construction
Multi-coated optical glass doublet
Aperture Type
interchangeable aperture disks
Available Apertures
2, 2.8, 4, 5.6, 8, 11, 16, 22
Closest Focusing Distance
0.3m (12")
Maximum Diameter x Length
90mm x 76mm (3.3" x 3")
Weight
161.6g (5.7oz)
TheOnlinePhotographer.com
In addition to focus control, the 3G's adjustment posts allow you to fine tune the sweet spot placement. The knobs are a nice size and turn smoothly. In fact, the well thought out ergonomic design of the 3G became much more apparent after an hour of tabletop shooting.
OutbackPhoto.com
The aperture can be controlled by changing little magnetic disks with a perfect round aperture (no disk equals f/2 and the disks come in f/2.8 - f/22). Here you have to find the balance between low DOF (wide aperture) and higher DOF (smaller apertures).
Imaging-Resource.com
The 3G doesn't communicate electronically with your camera. That makes more than autofocus an issue. Changing apertures must be done manually and setting exposure may be a manual affair on your gear, too, although cameras that meter through the lens can adjust shutter speed in aperture priority mode.
Bob Atkins
The Lensbaby 3G is a significant improvement over the original lensbaby in many ways. It has a better lens resulting in higher contrast images with a sharper center zone, especially at wide apertures. It's also much more controllable since the focus and tilt can be locked in place and adjusted with some precision.