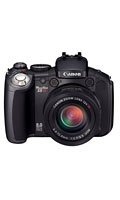 Canon PowerShot S5 IS Specifications
Lens
6.0-72.0mm f/2.7-3.5 (35mm film equivalent: 36-432mm)
Recording Media
SD card
Image Sensor Size
1/2.5"
Max Resolution
3264 x 2448
Effective Pixels
8 million
RAW Output
No
Optical Viewfinder
No, Electronic Viewfinder
Image Stabilization
Yes, Lens
Battery
AA (4) batteries (NiMH recommended)
Dimensions (W x H x D)
117 x 80 x 78mm (4.6 x 3.2 x 3.1")
Weight (incl. battery)
550g (19.4oz)
Luminous-Landscape.com
The S5 IS is a very nice little camera with plenty of range and possibilities as a 3rd camera for pros who want something eminently portable when the full-size beasts don't fit in. Learn the image quality and viewfinder limitations and you've got a new sliver bullet for niche problems.
DCResource.com
At first glance, the PowerShot S5 doesn't look a whole lot different than its predecessor. But if you look closer, you'll notice that the LCD has grown from 2.0" to 2.5", and that a hot shoe has magically appeared on the top of the camera. Canon also stuffed an 8 Megapixel sensor into the S5, compared to 6 Megapixel on the S3. Everything else is about the same, and that's a good thing.
DPReview.com
The S5 IS is a great camera, one we really enjoyed using, and one that produces decent output shot after shot thanks to a responsive focus system, accurate exposure, vibrant (but natural) color and a decent image stabilization system.