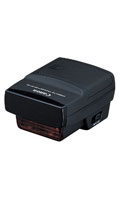 Canon Speedlite Transmitter ST-E2 Specifications
Transmission System
Infrared Pulse
Transmission Range
Indoors: Approx. 12-15m (39.4-49.2');
Outdoors: Approx. 8-10m (26.2-32.8')
Transmission Coverage
+/-40 degrees horizontal, +/-30 degrees vertical
Battery
2CR5 lithium
Dimensions (W x H x D)
62 x 51 x 80mm (2.4 x 2.0 x 3.1")
Weight (not incl. batteries)
100g (3.5oz)
CanonBlogger.com
I got an email from someone inquiring about the Canon ST-E2 asking about how to use it, and what it's compatible with. Taking a cue from this, I decided to make it a video tip from the MacbookPro,and set things up to give a basic primer on what the ST-E2 looks like, how it mounts to your camera, and how it triggers off-camera flashes electronically.
Peter Kun Frary
If you need a wireless multiple-flash system for field work, the ST-E2 is an essential tool along with a 430EX or 580EX Speedlite or two. The precision and flexibility of the system beats the tar out of wires and optical slaves. Plus, you also get a wonderful AF assist light to boot.
The-Digital-Picture.com
The Canon Speedlite Transmitter ST-E2 weighs only 3.5 oz without the non-included-in-the-box 2RC5 6v battery. The ST-E2 is very small compared to master flashes and mounts on an EOS body's hot shoe (or on a Canon Off Cammera Show Cord 2 for extra creativity). It is really nice to have significantly less weight in your hand for a long shoot.
Luminous-Landscape.com
My tests have shown that in this role the unit functions very well indeed. Full E-TTL capability is retained, and I've been successful triggering a 550EX that was located some 15 feet away, around the corner in another room. The unit has a test button for determining if the receiving flash unit is capable of "seeing" the triggering infra-red pulse.