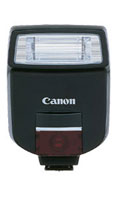 Canon Speedlite 220EX flash Specifications
Guide No.
72' (22 m)
TTL
E-TTL
Head Movement
Fixed
Flash Coverage
28mm
Recycle Time (full power)
4.5 Seconds (alkaline batteries) / 2.5 Seconds (NiMH)
Dimensions (W x H x D)
65 x 92 x 61.3mm (2.6 x 3.6 x 2.4")
Weight (not incl. batteries)
160g (5.6oz)
KenRockwell.com
The Canon 220EX is a great little flash. It just keeps pumping out great results, while the newer 270EX is either waiting to recycle, or getting me kicked out of a venue for its annoying nearly-full-power-flash AF assist system. The 220EX, with four instead of just two AA cells in the 270EX, packs enough power to get the job done.
camera.canon.com.my
If you are among those that don't resort to using bounce flash in your photography, the Speedlite 220EX makes for an attractive companion for your Type A or B EOS cameras.
Peter Kun Frary
If you need an extremely compact flash with E-TTL features, the 220EX is the only game in town. It is a perfect travel companion for smaller EOS cameras like the EOS IX or Rebel Ti. Moreover, EOS 3, 5D or 1V shooters that miss a popup flash will find it an easy addition to their camera bag or pocket.