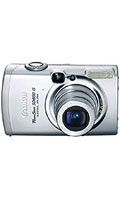 Canon PowerShot SD850 IS Specifications
Lens
5.8-23.2mm f/2.8-5.5 (35mm film equivalent: 35-140mm)
Recording Media
SD card
Image Sensor Size
1/2.5"
Max Resolution
3264 x 2448
Effective Pixels
8 million
RAW Output
No
Optical Viewfinder
Yes
Image Stabilization
Yes, Lens
Battery
Lithium-Ion NB-5L battery & charger
Dimensions (W x H x D)
90 x 57 x 26mm (3.5 x 2.2 x 1")
Weight (incl. battery)
195g (6.9oz)
DPReview.com
Minor quibbles aside, the SD 850 IS is hard to fault; it does exactly what's expected of it and does it reliably and with a dash of style. It is fun to use, and I found myself carrying it around with me most of the time while I was working on this review. It is small and well built. It is responsive and easy to use and most importantly produces very good results for a camera in this class.
Imaging-Resource.com
The Canon SD850 IS is an excellent performer no matter what aspect you consider, with superior focusing and low light performance matched with a powerful flash that doesn't make you wait all day to recharge. With a day-long battery, you couldn't ask for a better companion than the Canon SD850 IS, no matter where you're going.
DCResource.com
I've long been a fan of Canon's Digital ELPHs, and the PowerShot SD850 IS illustrates why. It stylish, ultra-compact, and well built. It has a gorgeous 2.5" LCD display and an optical viewfinder, a combination you won't find on most cameras in this class. It offers a few manual controls, just the right amount of scene modes, and not too many gimmicks.
Ken Rockwell
If I was buying another digital camera today, it would be a Canon SD850. I bought last year's model, the Canon SD700, 10 months ago, and if it dies, I'm buying an SD850 to replace it. For a slightly wider lens, the SD800 is also excellent and a top contender; choose how wide or how long you prefer.
DigitalCameraInfo.com
The SD850 costs $399 mostly because of its optical image stabilization and face detection system. It doesn't have a lot of manual control, but is perfect for point-and-shooters who can afford it. Sure, it has a weak battery and handles like a wet bar of soap, but the Canon PowerShot SD850 IS takes excellent pictures. And in the end, that's what matters.