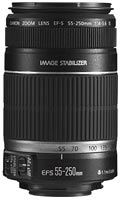 Canon EF-S 55-250mm f/4-5.6 IS Specifications
Frame Coverage
APS-C
Lens Construction (groups)
10
Lens Construction (elements)
12
No. of Diaphragm Blades
7
Minimum Aperture
22-32
Closest Focusing Distance
1.1m (43.3")
Maximum Magnifcation
0.31x
Filter Diameter
58mm
Maximum Diameter x Length
70mm x 108mm (2.8" x 4.3")
Weight
390g (13.8oz)
PhotoZone.de
The Canon EF-S 55-250mm f/4-5.6 IS is a tiny tele lens with a comparatively impressive performance potential. The resolution is very good across the range. Chromatic aberrations are almost a non-issue in field conditions. The level of distortions remains moderate. The most obvious flaw is, unsurprisingly, vignetting at large apertures.
The-Digital-Picture.com
Though I don't think the Canon EF-S 55-250mm f/4-5.6 IS Lens is great in terms of image quality and features, we can't lose sight of the fact that it is very inexpensive IS tele-zoom Lens. There is a niche for this model. A casual shooter who is happy with their Canon EF-S 18-55mm II or 18-55 IS Lens and needs a tele-zoom for infrequent use could be happy with this lens.