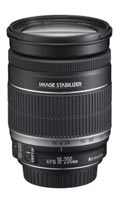 Canon EF-S 18-200mm f/3.5-5.6 IS Specifications
Frame Coverage
APS-C
Lens Construction (groups)
12
Lens Construction (elements)
16
No. of Diaphragm Blades
6
Minimum Aperture
22-36
Closest Focusing Distance
0.45m (17.7")
Maximum Magnifcation
0.24x
Filter Diameter
72mm
Maximum Diameter x Length
78.6mm x 162.5mm (3.1" x 6.4")
Weight
595g (20.99oz)
KenRockwell.com
This lens does it all for Canon's 1.6x consumer DSLRs. It focuses super fast, zooms from wide-angle to super-telephoto, and gets close enough for macro shots. It could be the only lens you ever need for most Canon DSLRs. It's a great lens, but has one potentially serious flaw in the AF system for many users.
CameraLabs.com
Canon's EF-S 18-200mm IS is quite simply the lens many Canon DSLR owners have been waiting for. It equips EF-S compatible models with a massive 11.1x optical zoom range, equivalent to 29-320mm, and crucially includes Image Stabilisation to iron out any camera shake. By delivering wide angle to decent telephoto coverage, it could be the only lens many owners will ever need.
The-Digital-Picture.com
The Canon EF-S 18-200mm f/3.5-5.6 IS Lens offers a great focal length range and excellent image stabilization in a compact package. There are going to be a lot of people traveling with this lens. And at the same time, the Canon EF-S 18-200mm f/3.5-5.6 IS Lens as a kit or general purpose lens makes a lot of sense.
PhotoZone.de
The Canon lens has a weak spot at its 18mm setting - the border resolution is soft and heavy vignetting, extreme barrel distortion and CA problems don't help either. The situation improves significantly from 24mm onwards but the sex-appeal of an all-round/travel lens is a usable performance throughout the range.
SLRGear.com
The Canon 18-200mm ƒ/3.5-5.6 IS offers slightly better performance than we're accustomed to seeing with vacation lenses, with image stabilization thrown into a very portable form factor. Users who seek optical perfection shouldn't flock to this lens, but when used stopped down by one or two stops, it'll give fairly impressive results.
DPReview.com
The EF-S 18-200mm F3.5-5.6 IS is a lens which many Canon users have been waiting for with great anticipation, as an ideal 'all-in-one' lens for travel and 'walkaround' use. In the flesh it behaves much as we'd expect from such an ambitious design, as an 11x zoom range will always necessitate some fairly major optical compromises.